a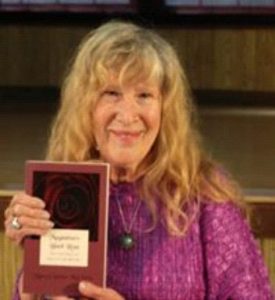 Mary Clarice McChrist,  (M.A.) is a Divine Mother, a prize-winning author of 9 books, spiritual teacher, visionary artist, Messenger for the Ascended Masters, the Holy Family: Mother Mary, Christ Jesus, Mary Magdalene, and Saint Germain. She created one of the world's first Ascension Centers in 1973-1978 in Santa Ana, CA. She was personally mentored to be an Official Messenger of the Spiritual Hierarchy by El Morya Khan, Ascended Master of Divine Will. Her work as a Messenger was reconfirmed in 1993 under Mother Mary and Archangel Michael. 
Mother-Mary initiated the Mother-Matrix in 1991 in Mount Shasta which honored all Divine Mothers and Goddess of all religions and traditions. "Conclave of the Mother" brought this theme to life with another World First – August 12-15, 1994 when more than 100 people attended this event.
From 2013-2019 she worked with Dharma Sangha Maitreya Buddha of Nepal (Buddha Boy). Recently she has shifted to Lord Maitreya Sr., the coming Buddhic Avatar. Ma does a yearly Wesak Celebration for Gautama Buddha on the Full Moon of Taurus. Her mission is to ascend you, the Love (Christ)-Wisdom (Buddhic) Soul Band.
Mary-Ma is especially known for her Spiritual Evaluation ($175.00*-$200) a 5-page reading like a spiritual college course on yourself. Others love her Heart Chamber ($100.00*-$150) reading or Crystal Retrieval – reclaiming your personal chakra crystals ($300*-$500).  She also continues her new Self Mastery classes. Go to her very special offering "22 Days with Mother Mary " www.NewWorldTeachings.us –  or .com.
*discounted for those in the New World Teaching classes.

Her newest home is in Yreka, CA near Mount Shasta.  Here Hearts Open, Minds Expand, and Perspectives Shifts through teleconference classes, events, books, audio recordings, visionary art, music, counseling, personal and Group Experiences. Open by appointment only. Call 530-296-2911.
Mary-Ma McChrist also offers Saturday/Sabbath Blue Rose Prayer calls from 11-Noon A.M. PT. Call 351-888-6369.  (Love donations gratefully received) Monthly teleconference calls cover unique subjects from the Divine Mothers and Ascended Masters. Check website to be on the mailing list for updates on these.

Visit our Web Sites: www.MaryClariceMcChrist.com;  www.NewWorldTeachings.us  or .com, and  www.Magdalenes-BlackRose.com. And soon: www.Mother-Matrix.org. Email: maryma33@gmail.com, Phone: 530-572-1604.